RC Financial's tax accountants offer tax services and tax preparation to any clients in Toronto and the Greater Toronto Area. Taxation in Canada is a shared responsibility between the federal government and the various provincial and territorial legislatures. Taxes are enforced by law and the Canada Revenue Agency CRA is the main governing body that oversees taxation in Canada.
More Services We offer related to :
Other complex corporate and Business tax issues
Other capital gains
Effective Utilization of tax losses
Real estate and Estate Planning
When interviewing or searching for accountants, find out if they generally carry out tasks such as preparing tax returns, if this is what you need them to do. Certain accountants may specialise for example in estate planning or financial forecasting and although they may have great qualifications, they are more likely to make mistakes than a lesser qualified accountant who has prepared hundreds of tax returns.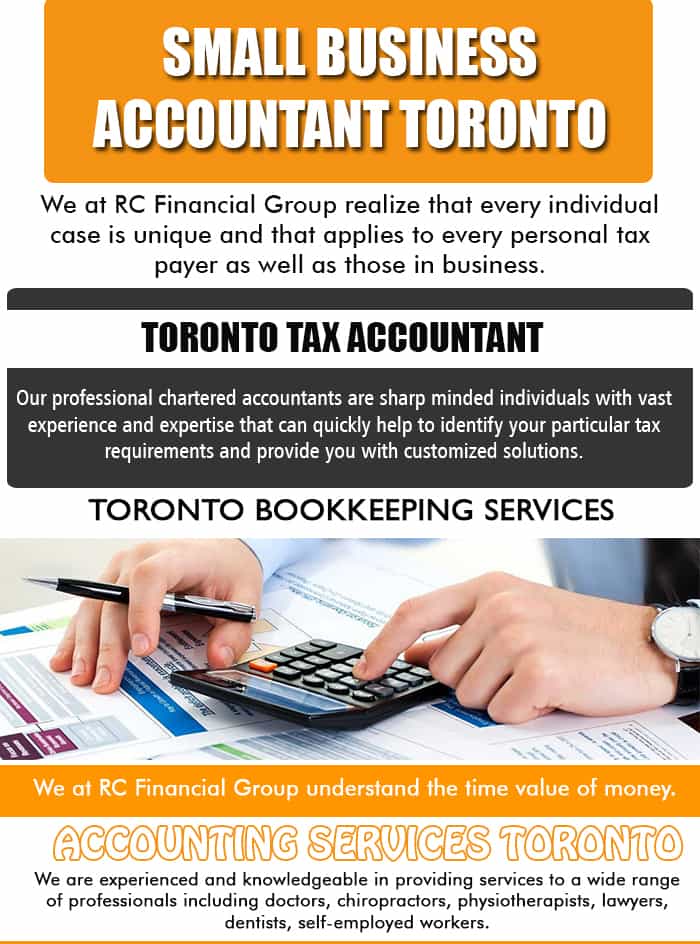 There are walk-in tax preparation companies that offer very low rates for preparing your tax return. For example, when it comes to your annual tax return it may be prepared by someone else but ultimately it is you who is legally liable for any mistakes in it.
The tax accountant may also charge extra for things such as phone calls, so ensure that you are fully aware of exactly what you will be paying to avoid unpleasant surprises further down the line. When choosing a tax accountant be picky as you need to ensure good service. Ask around and find the best rate, but do not choose the wrong person simply because they are cheap.
Our Various Services
A good tax accountant will cost more but your tax return will receive more of their focus and attention. Using a cheap tax return service now only to receive a large fine later on will not save you money. Once you have decided on the type of tax accountant that you need, you still have to find him or her. If you know a friend who has used an accountant in the past ask for recommendations.
Do an online check for their name or the name of the company they work for if they are not freelance. Immediately disregard anyone for whom you are able to find complaints.
We at RC Financial Group provide Taxation Services for:
Personal Income Tax
Capital Gains
Reducing Personal Tax by Investing in RRSP or TFSA
Corporate Tax
International Taxation
Payroll Taxes
Federal – Employment Insurance and Canada Pension Plan
Ontario – Employer Health Tax
Sales Tax
Excise Tax
Annual Tax
Sale Tax
It is important that you do not rush into choosing a tax accountant and that you instead take some time to question them and find out if they have the qualifications and experience that you need. However, whether you are employing a tax accountant in your business or outsourcing to a freelance tax professional, it is critical to choose the right accountant for your business.
It would also be a good idea to check references, especially ones from companies similar to your own, to find out if the person is reliable and has produced error free returns. Other questions to ask include finding out their fees and how they are calculated, such as hourly or a one-off price per tax return.

For small and medium enterprises, the latter option can be more appealing because employing a permanent, dedicated tax accountant is more expensive and sometimes unnecessary for a small company.
We offer Taxation Services like :
HST and other Sales Taxes
Representation before Authorities
Mergers and Acquisitions
Corporate Reorganizations
Sale of Businesses
Hence, make the time and effort to ask around or start your own research to find the best tax accountant that can handle your tax matters, and more importantly, one that you can work with.
Visit here to know more in detail about
RC Accountants Accounting Services
Other Related Services :Online Bookkeeping Services, Bookkeeping Services Small Business Fees, Small Business Accounting Services Cost